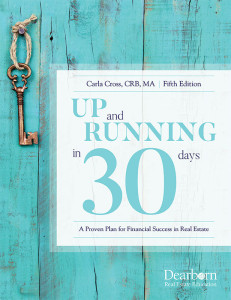 For new agents (under two years in the business), this mega-agent start-up plan is proven to get you at least one sale your first month in the business! Not only that, the training, scripts, and sales tips alone are worth thousands to you. In fact, in one month, you'll be acting like a top producer.
Succeed in Real Estate Your First Month in the Business
It takes many agents months just to get their first sale. By that time, they're discouraged and out of money. It doesn't have to end that way! Created by Carla Cross, CRB, MA, coach and consultant to thousands of new agents, this proven start-up plan has been used by hundreds of thousands of new agents internationally to succeed. (Carla herself sold 40 homes her first full year in the business). Carla personally trained agents to become multi-million dollar producers their first year in the business using this plan.
Warning: Don't purchase this resource if you want to start slow!
The Plan, the Training, the Examples, and the Inspiration There's no other resource like this: a simple-to-follow prioritized plan, with a lead generating component, a marketing plan, a technology plan, even a budget. It's all here, in the 4th edition of Up and Running in 30 Days. (Plus over 100 pieces of advice, motivation, and inspiration in a new feature to keep you focused and inspired: "Big Ideas".)
$32.95 plus shipping. Order now.
Here's Up and Running on steroids!
Get inspiration, coaching, and a sale fast! See my online training/coaching 8-week program, based on the information in Up and Running in 30 Days. Up and Running in Real Estate adds so much to this business start-up program. Plus, I've added a whole program to coach the coaches!  See Up and Running in Real Estate. Watch the video now.
Boy, what I would have given to have had a job description indicating a plan of attack. For example, this is how your day must be scheduled: prospecting, three hours, follow-up, clerical, etc. Rick Franz, multi-million dollar producer, Windermere Real Estate, formerly in the restaurant management business

I am delighted at the direction and the focus of our company and I must say that if I had not entered into Carla's Up and Running program, it's hard to say where our company would be going.  Thank you Carla! Joe Woutersz, Hearth & Home, Queensbury, NY

Carla has created a tool that is useful for new and experienced agents alike.The text flows well and the icons and illustrations keep readers engaged and on-target.I can hardly wait to start my next classroom session using this new edition. Dr. Eugene R. Gibbins, CRB, CRS, Owner, Gibbins School of Real Estate & Consulting; CRB Committee Chair, Products; Adjunct Professor, Indian River Community College, Port St. Lucie, FL

Carla's Up and Running in 30 Days addresses issues with a complete system that provides an educational foundation followed by hands-on weekly activities, which drastically increases the performance and productivity of our agents. Carriene Rose, Broker/Owner, Exit Realty Platinum Properties, Sugar House, UT

I use Up and Running in 30 Days and the manager's coaching companion to get my agents started fast.  My last group graduated 11 (in 3 months) and did 27 transactions.  It has become an exceptional recruiting tool, too. John Piper, Owner, Century 21 Champions (top C21 firm in the region) San Jose, CA
I came across Up and Running in 30 Days (not really sure how, maybe some divine intervention from good ole Mom) by Carla Cross and realized it was the missing link in my willy nillie approach to real estate. A clear "Action Plan" that put things into motion. From the planning of my business to the implementation of systems this was a turn key plan for my financial success in real estate. My confession here is that what I discovered about me through this process is that I really didn't believe in me…I didn't believe I could be successful. My biggest fear was having to go back to a JOB! One of the tools that Carla provides is an exercise about negative attitude and how to overcome and revise it. It was so simple I sort of feel silly for ever letting myself talk to myself that way! This year I'm getting back into the game after a couple of years of stepping away from selling and I'm using Up and Running to guide me and things are starting to happen! I've picked my niche and have a daily plan to reach my goals. Well for all those out there that are feeling overwhelmed and not sure what direction to take, you are a good agent and you have the skills needed to be successful. What you may not have is a clean action plan , Up and Running in 30 Days IS that action plan. Dee Nott, Connect Realty, Fayetteville NC