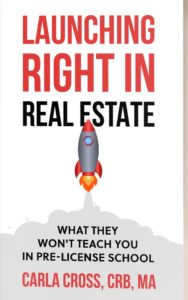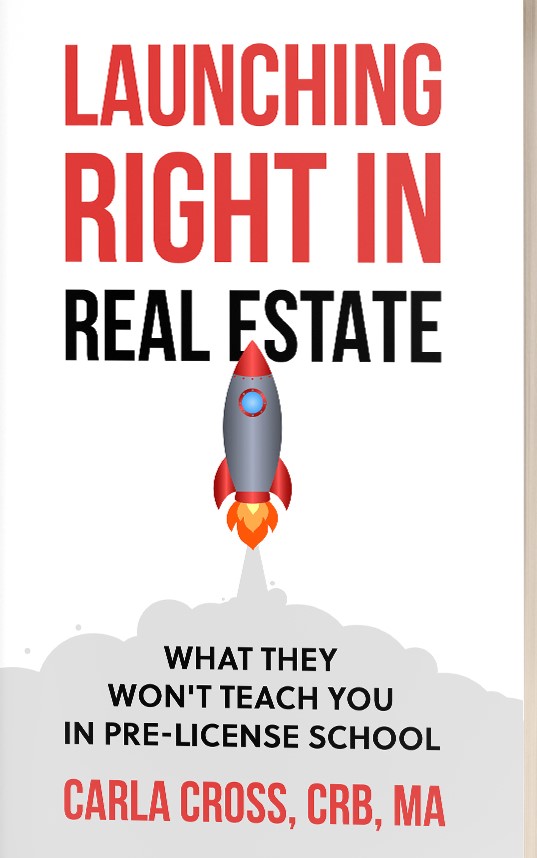 If you're considering real estate as a career, you have dozens of questions. Or, you may be launching a real estate career and not finding the success you'd envisioned. If so, this is the eBook for you!  Launching Right in Real Estate tells you everything you need to know about real estate as a career. But, wait. It's not just the unrealistic picture recruiters may paint for you. This is the good, the bad, and the ugly about the business. All new information, too, for the changes in our market. Carla will help you determine, whether you're a 'fit' for real estate sales, how to interview, how to choose the right office–and how to launch your career fast.
Click here for more information and to order. 260 pages; $9.95 for the electronic versions (PDF, ePub, Mobi). 
Inside:
How to decide if real estate is the right career for you
How to determinate absolutely if you're a 'salesperson' type and will love selling real estate
What they don't tell you to do during pre-license –to hit the ground running
The 5 most important interview questions to ask to choose the right situation for you (and 77 more!)
The technology you need your first day in the office
The business start-up plan that assures you make $$$ fast–and why too many new agents fail
Plus, answers to 100 other 'new agent' questions
Are you in pre-license now? Use this checklist to prepare to hit the ground running your first day in the office.
This book is a 'must' for anyone thinking of a real estate career.  It gives you the straight story (even facts brokers may not want to share).  The questions for interviewing are invaluable, whether you're new or experienced.  The information on business start-up plans will save you time & money-and start you on a track to quick income, and long-term career goals. Karina Stark, John L. Scott, Portland, Oreg.   Named "Top 30 under 30" award from the National Association of Realtors

This book was invaluable in helping me make the drastic change from 20 years in the medical equipment sales industry to a new career as a real estate professional.   It offered realistic insights into what is required of the individual, what to expect from the profession, what to consider in choosing a "best fit" company, including the questions to ask during the interviews in order to correctly make that very important decision.  Carla's broad spectrum experience in the real estate industry and her warm, personal writing style made this book educational, enjoyable to read and an easy to follow diagram to success.  Lucy Saldana, Windermere Realty, Bellevue, Wa.

Learn the answers to the questions that you have and to those you don't even know to ask from the "insiders" information legally shared in this book. Start with this roadmap to your path to success and join the top agent group – there is always room at the top it is the bottom and middle that are crowded!  If failing is not an option for you don't start without this book. Connie Kruse – Keller Williams – Plano, Texas KW National Rookie of the Year- Collin County Rookie of the Year

 

Click here for more information and to order the electronic version.. It will save you thousands and help you choose real estate as a career–if it is right for you.