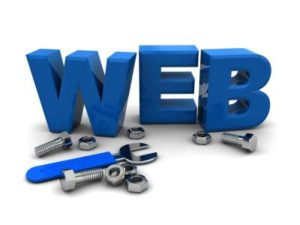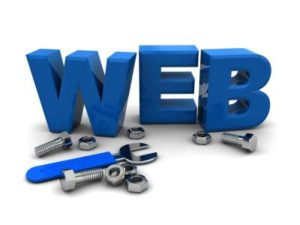 Here are two effective methods to get your audience's engagement online.
According to my informal surveys, real estate professionals and affiliates who teach say that
How Long Can We Keep Our Attention Focused When We're Taking a Webinar?
 As students, these same instructors say they lose interest in 5-10 minutes when taking an online course or presentation. Woops! Most of our webinars are at least 45 minutes!
Instructor Are Good Learners…..
Would you agree that we instructors are good learners? So, if we lose attention that fast, think about our attendees!
What does that mean to us as instructors? It means we have to create methods to hold learners' attention and increase their learning. These methods will be somewhat different, at times, from what we do when we teach 'live'.
Method #1: Provide Rewards for Participation
I just finished a webinar on how to convert your classroom course to online (see below for how to access the video). I wanted to help attendees take these ideas and immediately apply them to their courses. I was concerned that, because there was lots of material in a short period of time, attendees could be overwhelmed and not know how to start. So,  I promised I'd send my Big Ideas in a Little Book to the first 10 people who emailed me after the webinar, telling me what they were going to implement right away.
I will also follow up with my ten 'winners' to find out how they've implemented their ideas. This can form another blog or article, and give them some publicity (if they want it), too.
Question: What 'reward' could you offer to participants for finishing work, or promising to put to work some of the ideas in your webinar?
Method #2: Provide Work to be Done During or after the Webinar
How 'passive' is your webinar? Are you doing all the work? Are your attendees merely listening? Do you have your attendees doing some work when you're teaching 'live'? If so, it will be easy for you to 'translate' that to your online platform. 
Use a Handout with Work to be Done
In the webinar I mentioned, I created a handout for each participant with questions for them to answer as they proceeded in the webinar. I addressed a topic, and then provided some 'time out' for participants to decide how they could use that idea in their own course. By the time they finished the webinar, they had filled out a page of ideas on how to 'translate' that 'live' course to an online platform.
Question: What work or handout could you provide to use as you introduced topics in your webinar? How could you involve students in completing the questions?
In my next few blogs, we'll investigate more ways to hold attendees' attention and increase learning.
______________________________________________________________________
Want to watch the video of my webinar Masterclass: How to Take your Classroom Online? I'll have the video posted by Saturday, with the handouts. Go to www.carlacross.com, and press the Webinars and More Button. You'll see the post with the video and the handouts available for you.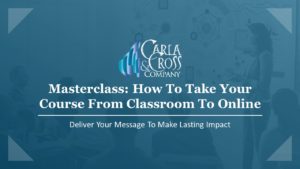 How I can help you go online with confidence:
Contact me to see if a customize webinar series would work for your organization. We'll work right through the organizational, teaching, and attention engagement challenges.
Take part in my Mastermind Group. In a series of 4 Zoom meetings, over a period of 4 weeks, we'll translate your course from classroom to online. You'll have a chance to practice and get feedback, too. Investment: $499, and you can bring a friend FREE if you email me by June 20: carla@carlacross.com.