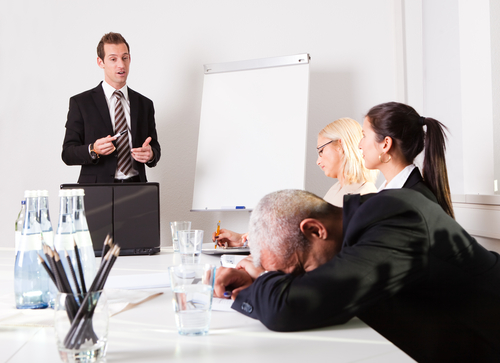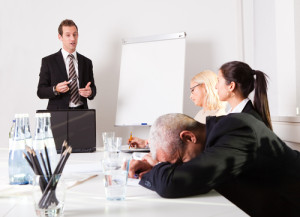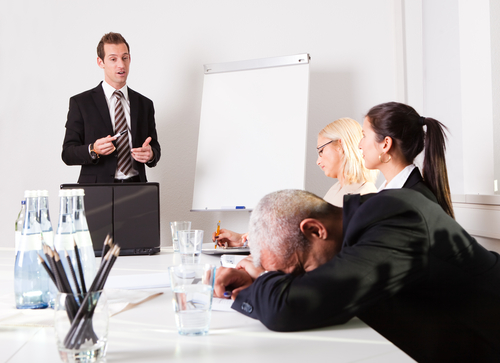 Here are three tips to present more effectively.
Managers, trainers, salespeople, and even 'real people' present frequently in front of one–to hundreds of people. Unfortunately, most presenters (yes, you become a presenter when you're selling!), aren't trained with the best presentation tools. Instead, they just 'wing it'. So, we in the audience (or your clients) are frequently bored silly. It doesn't have to be that way. Take a look at the three tips—tips I've learned first as a musician, then as a speaker, in front of hundreds of people. These tips will make your next time in front of a few –or many—enjoyable, memorable, and equally enjoyable for your audience or client.
Three Powerful Presenter's Tips
Death by Lecture
Don't lecture for more than 10 minutes. Adults just don't have that long an attention span (too much on our minds!). Change it up. Use various "alternative delivery methods"–methods to teach other than lecture. In my Instructor Development Workshop course, I help students learn these teaching methods by modeling them so they can observe me teaching. Then, we de-brief on what we did. Finally, each student teaches a short module using creative methods, and the rest of the students provide feedback. (We really only learn when we do something). Doing greatly increases confidence–and competence.
Question: If you're in sales or management: Are you talking through your listing or recruiting presentation because you know a lot? How long will it take until the person in front of you gets 'glassy eyes'?
Do Something Else Before You Talk too Much
2. When you want to change adults' perceptions, beliefs, or knowledge, don't just start talking to them. You may be setting up an adversarial relationship—and you're too predictable! You may just cause them to shrink more into their beliefs, and to defend those beliefs (have you observed students who live to argue with the instructor?)
How to tackle the 'old belief' challenge:
Prepare students or your clients to learn something new. For example: Use a 'true-false' or 'multiple choice' to start the presentation, or to check learning. I do this in my Instructor Development Workshop course in the middle, and ask students how they would have answered at the beginning of the course–and then contrast that with their new perceptions and learning. It creates lots of 'ahas' with them, and further cements their learning experience.
Tip: If you're in sales: Use a fun true-false survey for sellers to use prior to meeting you. It can have lots of fallacies and misinformation, and will set up your presentation to help sellers get the real facts and make the best decision for them.
Quit Relying on the 'Screen' to Talk for YOU!!!
3. Don't just read from the PowerPoint on the screen (and, just as onerous, provide the student with the PowerPoint as the "outline".) If an instructor does that, I feel I want to just take that outline and leave. I can read, thank you! Too many presenters/trainers rely on PowerPoint to do the teaching. Instead, invest in a 'pointer' that allows you to make the screen blank. Remember: YOU are the presenter, not your Powerpoint!
Tip: If you're in sales or management: Don't just drone on from your presentation manual. (that's your Powerpoint in this instance.) Instead, Use questions, handouts, pauses, and summaries to give your presentation contour and interest.
Use that Right Brain of Yours
Effective presenting is much more than just talking. It should be creative. Use all the "attention strategies" at your disposal (that means to get them into your repertoire).
Suggestions to get creative:
Use props, stories, various audio-visual aids, and handouts to control the audience "contour". I learned this as a musician playing for dancing. You direct how you want the audience to dance by the music you pick, and you 'contour' the whole experience (slower to faster, then back to slow). As a great instructor/ facilitator/presenter, you can direct your audience (clients) in an awesome learning experience. It just depends on the skills you bring to the table.
Tip: Adapt your creativity to your presentation to clients. They'll appreciate your innovative approach and you'll become memorable–not just another voice!
It's Worth the Effort
 Most presenters/trainers aren't in it for the big bucks (where are those big bucks, again?). They're in it to assist others. Gaining and practicing presentation skills helps us give back better. The bonus: Deep appreciation from our audience or your client. We've even been known to change lives for the better! No amount of money can provide that sense of accomplishment.
Carla's next innovative Instructor Development Workshop is coming up May 22-23, 2018 in Bellevue. Washington. Click here for specifics.
Resources to Present More Effectively 
Take a look at Carla's comprehensive training resource, The Ultimate Real Estate Trainer's Guide, and her presentation resource, Knock Their Socks Off: Skills to Make Your Best Presentation Ever.  See all her coaching and training resources at www.carlacross.com.