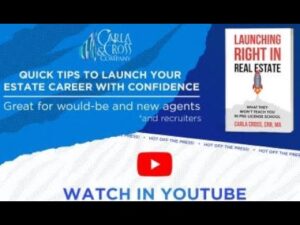 Here's a job description of a failed real estate agent. What a downer to read this! Yet, if we don't contrast what a successful agent does with what a failed agent does, we do you a disservice.
If you're a would-be agent, a new agent, or an agent who isn't achieving your goals, watch this short video, so you'll know the difference between your activity schedule and that of a successful agent.
If you can, start or re-start your career with a proven business start-up plan, so you know you're on track with your hard work!
Here's everything you need to launch your career or re-launch with confidence. My two new books will give you the straight scoop on real estate, and Up and Running in 30 Days (now in its 6th edition!) will provide you the tools you need to succeed–the proven business start-up plan thousands have used to launch or re-launch great careers. Get them now at a blazingly good price of $50, plus shipping.
See more and order here.