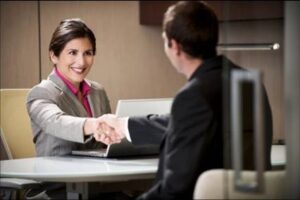 Real estate careers: Here are the pros and cons for women entering real estate.
From my four+ decades in real estate as a top producing agent, manager, regional manager and company owner, I've experienced how a woman can excel in this field. I've hired women who launched careers like rockets and attained recognition in the top ten percent of their 1000-agent company their first year in the business. Here's what I've learned about how women succeed in this business.
What It Takes to Start in this Business
If you're the type of person who wants to take responsibility for your own success, real estate sales may be a 'fit' for you. Successful women have these traits and qualities:
Tenacity
Belief in oneself
Takes responsibility for success
Great learner and applier
(Here's a list of ten traits and qualities and how to identify if you have them in my award-winning book for would-be agents, Launching Right in Real Estate: What They Won't Teach You in Pre-License School.)
Two Important Things Often Ignored that can Determine Success
Get agreement from your partner that you are opening your own business—with the sacrifices it takes that first year. It sounds old-fashioned and sexist, but it is still going on. Women's partners often assume a woman can sell real estate and still be available whenever the partner wants them available. Just not so! You are now going into business for yourself. You are going to work when your client needs you. You are going to dedicate your first year in the business to building a viable, successful business. You are going to make sacrifices.
Have at least three months of savings. Why? Because it will take at least that long to get a check. More often, it can take up to six months to get your first check. (Check out my Launching book for a timeline of activities to results, from expenses to income).
What You Need from the Company You Join
It's not enough to 'go it on your own' as you launch your career. Having the right company partner will make the difference in your success—or your failure. Look for a company that has a specific identifiable launch program—from onboarding to training to coaching. That company should be an expert in training, coaching, and consulting.
Advice: Don't accept 'we have training' or 'we will train you'. See the programs; meet the people charged with your success. Remember, that interviewer is trained to show you the most attractive aspects of the company and avoid those areas where the company is deficient Get behind the curtain. Ask the next question. SEE the evidence.
Find Your Mentors and your 'Tribe' Early
Women who succeed find other succeeding women. We love supporting each other. Use your intuition and your natural way of succeeding here. Caveat: DO NOT hang out with failing agents!!! You'll get the wrong idea about the business. Surround yourself with winners, and you'll be a winner, too.
The Hardest Part about Being a Woman in Real Estate
It's like any business. There are 'cliques'. I rose to management in a company with a male-dominated hierarchy that didn't want women 'messing up' their male-dominated world.  Find a company that avoids the cliques. Look for a company that's been awarded 'best place for women to work'. Note if women rise to leadership positions in the company. If so, you'll enjoy unlimited opportunity and avoid that glass ceiling.
What did I forget? What's your experience and/or advice for women entering real estate?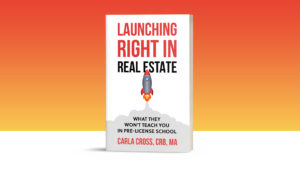 Launching Right is Critical!
Take advantage of my many years of interviewing people just like you! Here are the dozens of questions asked–and the best answers I have. I won't mislead you or sugar-coat it. Why? Because I've seen too many people fail when they didn't know what it took to succeed. Get your Launching book and be armed with the information you need to choose real estate as a career AND choose the right company for you.
See the virtual version and the hard copy version here.
Want a deal? Buy Launching AND my unique business start-up plan for new agents for $50 now.  Click here.