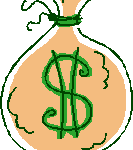 If you're under a year in the business, do you feel you're really "up and running" now? A few years ago, I did a very revealing survey of hundreds of new agents. (That survey is in my upcoming book, What They Don't Teach You in Pre-License School, out in July.)  I asked these new agents when they wanted their first sale. What do you think they said? Before I tell you: When do you want your first sale? If you're like the agents in my survey, you expect your first sale
within your first month in the business.
Are You Going to Hit the Ground Running?
My assumption: You want a fast start! If you already have my business start-up plan, Up and Running in 30 Days, you know I start you right into the business so you can realize that sale within your first month. This is, unfortunately, very unlike the start most agents get (they get a very slow start—keep reading!). (see the Souped-up online version below).
Your Manager's Expectations May Surprise You
 Your expectations may vary from your manager's expectations of you. If the new agent expects high earnings fast, what did his manager expect from him?  Most of the respondents from the survey didn't know what their manager's expectations were.  71% of the respondents didn't know even the minimum expectations of their managers–the minimum production standards they would have to meet to have their contracts renewed the second year.
Be Sure Your Manager's Expectations Match Your Goals
 To assure that the new agent and manager see 'eye to eye', you need mutual expectations in writing prior to hiring on. You need to see the exact business activity plan you will be coached to. You also need proof that the plan works! What if your manager doesn't care how fast you make a sale—or even that you make a sale? You need much more support than that.
Be sure your manager has expectations of you that you can fulfill, and that your manager will actively coach and support you to realize.  (Psst: Go ask NOW!) Now, get up and running to that first sale! (or more)
Big question: Do YOU know what your manager's expectations are? Let me know here!
If you've been in the business less than 2 years and you're not getting the success you deserve, you need to give yourself the gift of this program. All the training, coaching, and supporting documents are online, so you can go at your own speed and go back as many times as you want.
How this program is different: It is foundationed with a business start-up plan, so you learn how to self-manage a successful business, not just do activities. And, there's nothing else to buy–no extra cards that stay in your trunk! (And, there's a coaching component for your manager so support you every step of the way!).
Check it out and see how you can reach your potential–and beyond!