New agents: Do you know the percent of agents who fail in their first 6 months? I know we don't like to think about failure, but, every successful person I've known is a bit afraid to fail…..
Do you know the percent of agents who fail to reach their goals for their first year in the business? I know this is a negative way to start an article, but, I really want your attention! (I want your broker's attention, too!). It's such a shame that over 50% of agents fail to make the grade in their first year of the business.
Why Too Many New Agents Fail
New agents come into the business, excited because they are 'in business now for themselves'. They don't have a "boss". They can organize their time. They look forward to lots of 'free time'. What a dream world! Worse yet, they don't know how to start the business! (Who would?) So, they fill the time with what comes easily. Most of us are afraid of rejection, and fear what will happen if we talk to human beings and ask them to buy real estate from us. So, we stay away from those activities that invite rejection. We gravitate toward 'safe' activities, such as:
get organized–all day
attend classes–all day
preview properties–all week
observe others–all week
do research and follow-up
A friend of mine observes that they seem to be "getting ready to get ready".  At the end of this blog is a link to a time management analysis tool which will tell you how you're spending your time.
The very dangerous thing about agents creating a daily plan without good business-start-up principles, is that they create habits of failure. In effect, they created their own start-up plan—one that assures low production.
Evaluate Your Plan Now
Why not rate your plan now to see which path you are on? Simply add up the number of hours you spent last week in the activities above. Now, add up the sales producing activities (lead generation, showings, listing presentations, sales, and listings gained). Which of the categories has the larger time block?  What does that tell you about the job description you have created? Is it a job description that leads to sales?
Use the Time Analysis Tool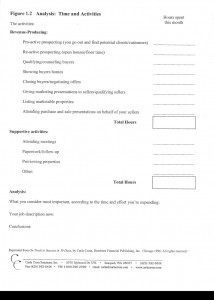 Click here and get the time analysis tool so you can see if you're on track for success.
Managers: This is a great tool to use with new AND experienced agents.