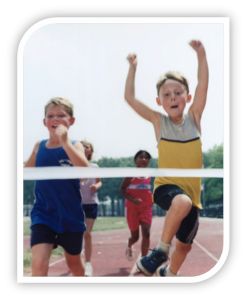 If you're under a year in the business, do you feel you're really "up and running" now? A few years ago, I did a very revealing survey of hundreds of new agents. (That survey is in my new eBook, What They Don't Teach You in Pre-License School,* along with my observations.)*
*If you're new, or confused, or in pre-license school now, you need this book!!!!!!
I asked these new agents when they wanted their first sale. What do you think they said? Before I tell you: When do you want your first sale?
If you're like the agents in my survey, you expect your first sale
within your first month in the business. 
Are You Going to Hit the Ground Running?
My assumption: You want a fast start! If you already have my business start-up plan, Up and Running in 30 Days, you know I start you right into the business so you can realize that sale within your first month. This is, unfortunately, very unlike the start most agents get (they get a very slow start—keep reading!).
Your Manager's Expectations May Surprise You
 Your expectations may vary from your manager's expectations of you. If the new agent expects high earnings fast, what did his manager expect from him?  Most of the respondents from the survey didn't know what their manager's expectations were.  71% of the respondents didn't know even the minimum expectations of their managers–the minimum production standards they would have to meet to have their contracts renewed the second year.
Be Sure Your Manager's Expectations Match Your Goals
 To assure that the new agent and manager see 'eye to eye', you need mutual expectations in writing prior to hiring on. You need to see the exact business activity plan you will be coached to. You also need proof that the plan works! What if your manager doesn't care how fast you make a sale—or even that you make a sale? You need much more support than that.
Be sure your manager has expectations of you that you can fulfill, and that your manager will actively coach and support you to realize.  (Psst: Go ask NOW!) Now, get up and running to that first sale! (or more)
Get Specific Guidance Every Day to Get Your Career Launched Successfully
See UP and Running in Real Estate, my new 8-week online training/coaching/business planning program. There's nothing like it, and it will launch your career (or re-launch it like a rocket!).
4 Big Shifts to Make your Business Plan Exceptional in 2014
See the recorded webinar AND get the slides (so you don't have to take notes. Click here.
Just a few of the things you'll learn:
What's been missing in your plan, and why it's so important to include so your plan isn't just words on paper
How to get the support you need to assure your plan works
How to think through your plan so it makes sense in 'real life'
An attribute you have that you haven't been using that will make a huge difference in your business
What some of the most successful businesses in the world are doing in 2014–that you can copy in your own business for much more success
Who will benefit:

Those without a plan: If you have never had a plan, or planning didn't work for you, here's your opportunity to get some guidance, motivation, and inspiration.
Those who have planned in the past: If you have had a plan in the past, you'll get new strategies to build into your 2014 plan,
Those agents serious about growing their businesses!!!!!!
Click here to see the recorded webinar AND get all the slides!
Carla Cross literally 'wrote the book on business planning' for real estate professionals (the only one of its kind published internationally). Cross has written business planning courses and taught for most of the international real estate franchises. Her planning process has been tested 'in the field' and acclaimed as the most effective planning process for real estate pros available.
Do you need a better planning system? Check out my online system, Beyond the Basics of Business Planning. You'll get all the advice and coaching you need from me, plus access to all my business planning documents.