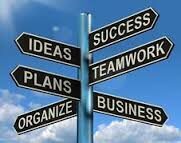 During December and early January, I'm featuring business planning in my blogs.
Do not create that business plan—at least, not the way you've been doing it! Why? Because it's just a bunch of numbers.  You've done it before, so you know it doesn't inspire you. In fact, I'll bet you never even looked at it after you did it!
So, am I telling you NOT to create a business plan at all? No. I'm telling you not to create a plan using the same 'template' you've used in the past. Here's what you've been leaving out: The parts that inspire you, keep you motivated, and give you the 'why' of your plan. Without those parts, you've just got some 'generic' numbers.
 Numbers Don't Inspire. Visions Do.
Martin Luther King didn't say, "I have a business plan." He said, "I have a dream." Put your dreams in your business plan. You need a vision as your foundation to your plan. That vision inspires you to keep doing the right thing, not the expedient thing. After all, your goal is to create ecstatically happy clients, not  merely to do a 'next' kind of business.
The Second Thing You're Missing
How do you know what moves to make? Do you pack your business plan full of tactics that you heard from the seminar gurus? Do you do the lead generating tactics your friends do? Do you spend your marketing money by trying to copy that 'gorilla agent' in your office? If so, you're really missing the point!  You need to do a thorough 'review', to find out what worked in your business, where you spent your money, and how your lead generating sources worked out for you. Finding out those things guarantees you'll know exactly how to create a business plan for success next year.
The Third Component  to Make your Plan More than Just Numbers
Do you have a mission statement? I'll bet you left that out, too. The mission statement tells exactly who you are in the business, the areas you serve, and your specialty services. It does not have $$$ in it, and it is not a 'future' protection. It portrays you in your ideal situation as an agent, so you can use that mission to inspire you during the tough times.
An Example
Here's my mission statement for my coaching company:
Our Carla Cross Coaching Credo 
q    Provide a solid foundation with a proven game plan, from which to coach, so our clients have the 'music' for which to create their own successes
q    Create an encouraging, positive, supportive, and uplifting experience, so clients are motivated to step out to reach their goals
q    Provide insights, expertise, and real estate guidance to help our clients go further, faster, and with greater confidence
q    Remember that each of our clients' well-being transcends all other considerations!
How My Mission Works for Me
What does the mission do for me, as owner? It helps me choose the right coaches. It helps me communicate our values. It helps me choose the right clients! It helps me remember that it's not the dollars we're getting that's important—it's the clients we help have a better career and life.
Your Next Steps
Round out that 'numbers' business plan with the inspirational and motivational parts of your plan—the parts that are uniquely you:
Your vision

Your review

Your mission
Now, you have a real business plan you can follow and use for guidance and inspiration all year.
Grab My Online Business Planning Program–at Discounts!
Thought you'd get it done but it's still on your 'to do' list? I want to help! So, I've adding a discount on my online business planning resources through Dec. 31.
Managers: Frustrated because you can't get your agents to plan? Problems solved! I've put my exclusive planning pages online–plus webinars to help you get through that plan fast. Don't wait another year for business success. See more here.
Special discounts through Dec. 31: Purchase the agent's planning resource, Beyond the Basics of Business Planning for agents,  and save $20 (regularly $99). Use coupon code agent bus plan.
Managers: I'll teach your agents how to plan, too! Included in your Manager's Package!
Purchase the manager's planning resource, Beyond the Basics of Business Planning for Managers,  with all office/company planning documents and save $50. Use coupon code manager bus plan.
Offer ends Dec. 31: Big discounts on these programs–use the coupon codes below to order.
Ready to order? Click below:
Beyond the Basics of Business planning for Managers — regularly $249, now $199 with coupon code manager bus plan 
Beyond the Basics of Business Planning for Agents  –regularly $99, now $79 with coupon code agent bus plan
Remember, this special offer expires Dec. 31, so, order now and get your business plan ready for 2019.