Branding YOU: How to Avoid the Three Mistakes Agents Make.
You're a new agent, or an agent struggling to establish a track record. You know you need to create some statement reflecting who you are and why clients should work with you. But, you can't brag about your gazillions of sales or happy clients. So, how do you promote yourself? How do you create an effective biography?
In this video, I'll put your concerns to rest. I'll show you the three big mistakes agents make in creating their biographical statements (even when they are very successful).
Creating a biography that reflects YOU is one of your first steps in branding yourself. Your biography should
Be consistent across all social media platforms.
2. Reflect your strengths.
Watch the video here.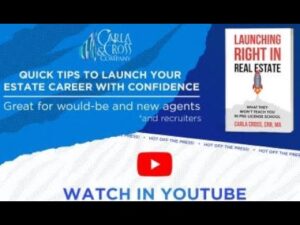 Want more information? Click here.  On my blog, Up and Running in 30 Days, you'll find a questionnaire to create your bio, tips for dos and don'ts, and even an example.

Much more advice, training, and success:
This guidance is just a small part of my comprehensive, quick-start online program, Up and Running in Real Estate. If you want a proven quick career start, don't just try out this, that, and the other. You're wasting time and money–and you're destroying your confidence!
When you go into real estate, you are truly a business owner. What business owner would start without a business start-up plan? Get a proven plan of action you can count on, with the coaching to give you confidence. Check it out here.