This is a series of blogs to prepare you to work successfully in the 'new normal'. One of the traits you'll need to compete and thrive is to be an 'early adopter'.
Come On–Admit It. We HATE  Change!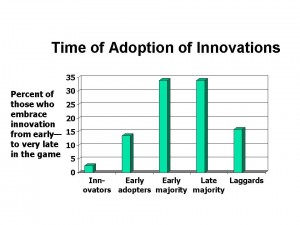 Few people change quickly on purpose. But, in this era of rapid change, we real estate professionals can't afford to lag behind. If you're still waiting for 2007 to come back,  you're going to have a long wait! So, make up your mind that you will go ahead and do what you've been putting off. You're just wasting opportunities. That means, if you're a seasoned agent,  you'll need to polish and update your communication skills, among other things.
Top Producer Trait: They Get Right To It!
I've never seen a top producer who didn't get right to it. But, I've seen dozens of people fail because they fought progress, questioned every piece of advice given-and failed miserably. In this rapidly changing world, the fighters against action just can't win.
Action plan: Right now, list three things you're going to do for the first time this year. Now, put 'drop dead' dates on them.
Tenacity in the Area of Resisting Change Isn't a Good Thing…..
Have you observed someone who fights you every step of the way? Behind that is only fear. Yet, it's not fear of failure. It's fear of getting into action. It's fear of success. Either figure how to get them into action, or you will need to  find a career change.