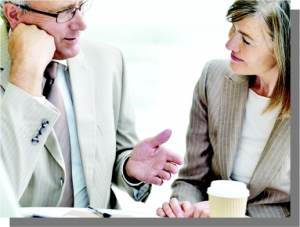 What to do if your coaching isn't working:
If you're being coached: Are you missing the 'secret ingredient'?
Coaching is a 'buzzword' in the world of business today, and especially in the world of real estate. Why? We have more committed people coming into real estate to make it a real business, not just to sell a few houses. And, it costs much more money to enter and run a real estate sales career than it did years ago. So, committed agents are looking for methods to assure their successes.
Increasing Production Doesn't Work with a 'Mass Management' Approach 
Years ago, I discovered that changing an office's production for the better, and thus, increasing the bottom line, didn't have anything to do with 'managing an office'. Instead, it had everything to do with training small groups and coaching individuals to greater successes. However, I found I was one of the few managers that took that approach. Even though my office became number one in productivity per agent and profitability in the company, it didn't seem that the other managers thought coaching individuals was 'key' to that accomplishment.
Getting Lots of Production in an Office Doesn't Mean YOU will be Successful
From what agents tell me today, I'm sorry to say that it still seems the case. I'm afraid many managers try to increase their salespeople's performances with the 'group' approach. I know that doesn't work very well. In my 'other life', I was a performing pianist and teacher. I taught piano classes and individual piano lessons. I found that students didn't learn to play very well in a piano class. They needed individual attention, so they could build on their individual strengths, and learn the skills of perfect practice. I believe the same principles of increasing performance are true of sales. After all, sales success is measured by our performance of it, not our knowledge of it, isn't it? Mastering the skills of sales and business management seems to me foundationed on the same principles as mastering any skill.
The Coaching Feedback Loop
One of the biggest mistakes coaches make is in the feedback (evaluation) part of coaching. Why do you need to know that? So you can seek out a coach who is coaching you correctly.
What is the 'coaching feedback contour'? It's the framework for performance feedback in a coaching session. The 'contour' shows you how to coach performance so that you encourage good performance, and motivate your 'client' (the person you are coaching) to better performance.
Coaching Performance Feedback
Step One                                     Step Two                                      Step Three
Positives First                          Re-Direct/Questions               Positive Reinforcement
What I (you) liked Next time, how could I know you can…
What I (you) attempted you…….. (what Encouragement
What I (you) did 'new' resources are available
Is your coach using this contour? What are you learning from taking part in it? Has it changed the way you think about your performance 'wins'?
Give this feedback loop to your coach and go through it together. It will help you get blazingly good at client communication!
Give Yourself Some Positive Results!
Why not get into a situation that gives you great results? You'll feel great about yourself, and you'll accomplish more than you ever thought you could. Check out Up and Running in Real Estate. Coaching is built in, using the coaching techniques Carla Cross has learned first as a performing and teaching musician–and then in real estate!