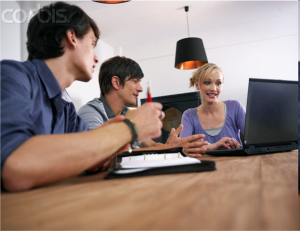 What does teamwork have to do with you? If you're an agent wanting to grow your business, and you're at the end of your rope working, you need help! That comes in the form of an assistant–and can grow from there. As you hire those to work for/with you, you go into management.
From working with dozens of real estate owners and managers, and as my position as a CRB (Certified Real Estate Broker) instructor for twelve years, I've had an opportunity to see exactly what makes a company profitable–in the long run. So, this month, I'm sharing what I've found to be the critical pieces of the puzzle that lead to sustainable profits. I'll spotlight the 4 foundations you have to have to be exceptionally profitable–no matter your economic model. Actually, I've come to these foundations by observing how companies fail to be profitable over a period of time without these four foundations. In each of these blogs, I'll spotlight one foundation. The fourth is
Teamwork.
Go It Alone vs. Teamwork
"I work alone." "I don't need to be a member of a 'team'". We're heard that for years in the real estate industry. Yet, the strongest, fastest-growing real estate companies have team building as part of their cultures. Agents who want to expand their businesses create teams. So, TEAM is no longer a four-letter word. The importance and implementation of leadership through teamwork and synergy is back in style in the real estate industry.
Why Building a Strong Team is Important to Agents AND Management
As with all industries, the real estate industry is evolving. We've gone through the 'go it alone' phase. Because we've gotten more sophisticated in business. We realize that no one succeeds alone. We understand now that people working together create something more substantial than the sum of the parts. In addition, with the challenges in the business, we finally get that many minds focused on the same task can accomplish much more than each person working as his own little island. Supporting this trend, strong company cultures have emerged which encourage and reward teamwork instead of solely independent achievement.
Are You Reaching Your Potential?
If you believe you can have a more successful career, but you're stuck at a plateau, why not investigate coaching? Our one-on-one unique coaching program is customized to meet your needs. We'll show you how to break through those ceilings of achievement! Register for a Complimentary Consultation to see if our coaching is for you.