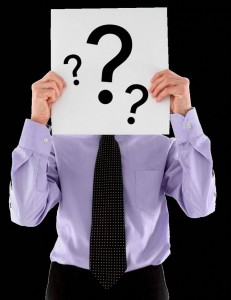 From What They Don't Teach You in Pre-License School, by Carla Cross
Oh, how we love to think we candidates have control of the interview. But, in my experience, most candidates fail to ask the right questions. So, they get the information they want to hear–but not the information they need to make the best decision on a company, an office, and a manager for themselves. Here are the 5 questions I believe you should ask–and how to be discerning about the answers you get.
1. What are your minimum production expectations for agents in their first 3 months? 6 months? 1 year?
This question will tell you whether you're considering joining a company/office of focused, career-minded professionals, or a company/office of part-timers, low producers, and those who just want to snag a couple of sales. If the manager has no minimum expectations, he/she willing to hire anyone to 'give them a chance.' That's not a business, it's an opportunity to create an avocation.
2. How are you going to help me launch my career? Describe your start-up program and schedule for me—orientation, training, and business start-up plan. (*Ask to see the specifics of the programs).
 You would be amazed at how many real estate offices do not have an orientation resource or process for you! Without these systems and processes, though, new agents have no way to find out where the files are, how to get the various keys, codes, and operations associated with the office, the Multiple Listing Services, and the National Association of Realtors® information. Lack of these checklists and systems indicates that the manager either doesn't care much about the quick success of the new agent and/or that he or she doesn't hire many new agents.
3. What kind of results does your start-up plan and initial training gain for your new agents? How many transactions are they doing, on average, by month three? (Ask to see the statistics).
You shouldn't be concerned if there's one (or more) top producer in the office. That may have little to do with your own success. You should be concerned with the programs and strategies that manager is going to implement to assure you reach your goals (and the office minimums) in your time frame. You may be surprised to learn that most managers actually don't know how well their 3-month agents are doing (or don't want to know….)
4. Coaching and Accountability: Who will be coaching me to the start-up plan? How will I be held accountable?
Who will coach you in your first few weeks/months about the activities to assure you're on track to quick success? How often? What will the coach use as a game plan? (It should be your business start-up plan!) What's the cost? Is the coach trained as a coach? What support and ongoing training and monitoring do the coaches have? Talk to a newer agent in that office who has been coached, too. If there's no formal, scheduled coaching and no or little accountability, you are on your own to figure out how to sell real estate!
5. What other specific support will assure I am successful fast?
Listen carefully to this answer. Is it a 'branding speech' to sell you the benefits of that particular company, or does it focus on helping you individually reach your goals? If the interviewer mentions support services such as peer coaching, delve deeper to find out what specific services are provided.
Don't just get 'sold' on fluffy benefits. This is a business, and far too many people fail their first year in this business. Choose a company that treats selling real estate as a business, and is committed to your development.
What other important questions do you believe should be asked?
Get ALL the Answers Before you Commit
It's painful to have to make a change a few months into your career. Or, worse yet, fail because you 'fell' for those spiffy sales jobs that told you how successful you would be–without the work! I've put all you need to know in this 282-page ebook.
Check it out here.